Janetha over at Meals and Moves created a fun little challenge for April to help motivate us to try a few new "adventures" in April! I put adventures in quotes because it could really be even the smallest adventure- last week mine was to work out early in the morning as opposed to the mid morning workouts I'm used to! This week I decided to have quite a few adventures related mostly to food because one of my goals this week in Best Body Bootcamp was to try a new recipe every DAY! I thought this would be hard but it was actually pretty easy- especially because most of the recipes I tried were pretty simple.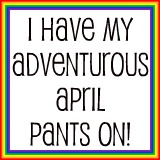 My first adventure was making pancakes on a griddle. I've been wanting to buy a pancake griddle for-ever and I finally did. I tried a new recipe- Janetha's Whole Wheat Yogurt Pancakes. They were absolutely delicious AND boyfriend approved. I've been on a huge protein pancake kick lately, but these were a nice change for a lazy Saturday as they were more of your "normal" pancake (hence the boyfriend approval!
)
My second adventure was grilling tofu! This was my first time making my own tofu (aside from using it to make "ricotta cheese" for a lasagna once) and I actually really liked it! I pressed the tofu with my LSAT study books (putting them to good use..) then marinated it in an Asian marinade then grilled it while the boyfriend grilled out chicken sausage. I used to be really scared of the taste/texture of tofu- but I've decided I actually really like it as an alternative to a meat based protein source. I served it along side roasted cauliflower which was another first for me- I always thought I hated cauliflower. I was wrong. It's pretty good. (But broccoli is better.)
I'm sad to say that bootcamp is officially over this week. I loved having my workouts planned out for me and it really motivated me to keep up with the workouts because I didn't want to miss out on any of the awesome workouts Tina created! However, I plan on repeating a lot of the workouts now that it's over- at least until the next bootcamp begins
Well, finals week is here which means lots of studying + paper writing for me this week. I hope you all have a good week!